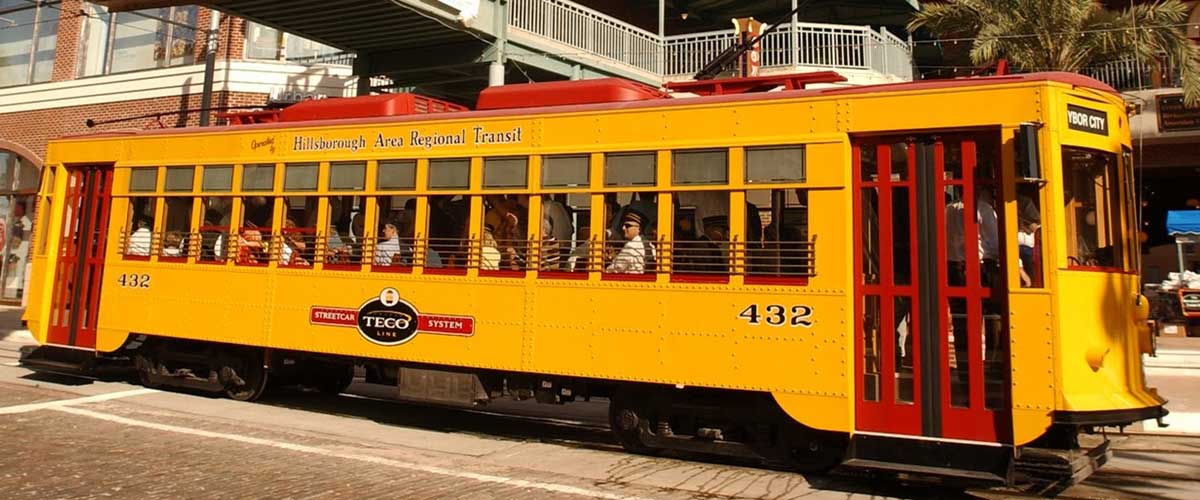 Streetcar Station Stops
The TECO Line Streetcar System offers 11 station stops along its 2.7-mile route. Five stops are located in Tampa's Channel District, four are in historic Ybor City and two are downtown. The stations reflect the design characteristics of the district where they are located and incorporate public art elements that celebrate the lives of Tampa and Ybor City workers.
Streetcar Service is FREE
Streetcar Hours of Operation
Monday – Thursday………………..7:00 a.m. to 11:00 p.m.
Friday………………………………………..7:00 a.m to 2:00 a.m.
Saturday……………………………………8:30 a.m. to 2:00 a.m.
Sunday……………………………………….8:30 a.m to 11:00 p.m.
Operates every 15 minutes.
Streetcar Service Schedule
No service is provided on Thanksgiving and Christmas Days.
Service operates with an end-to-end running time of approximately 25 minutes. Changes to the frequency, running time and operating speed are possible and will be revisited by the THS Board as ridership grows and operating needs change.
Extra Service is defined as service that exceeds the Base Service level. HART is authorized by THS to run Extra Service to accommodate crowds as needed (e.G. during Gasparilla Festival or sports events). Announcements for extra service will be available in advance of the events.
Extended Streetcar Service for Weeknight/Sunday Amalie Arena Events:
TECO Line Streetcar service is extended until midnight Sunday-Thursday when there is a Tampa Bay Lightning game or weeknight/Sunday night event at Amalie Arena. Extended streetcar service will operate every 15 minutes.
For more information please call the HARTinfo line at (813) 254-4278 or visit http://www.tecolinestreetcar.org.